Special Dinner Menus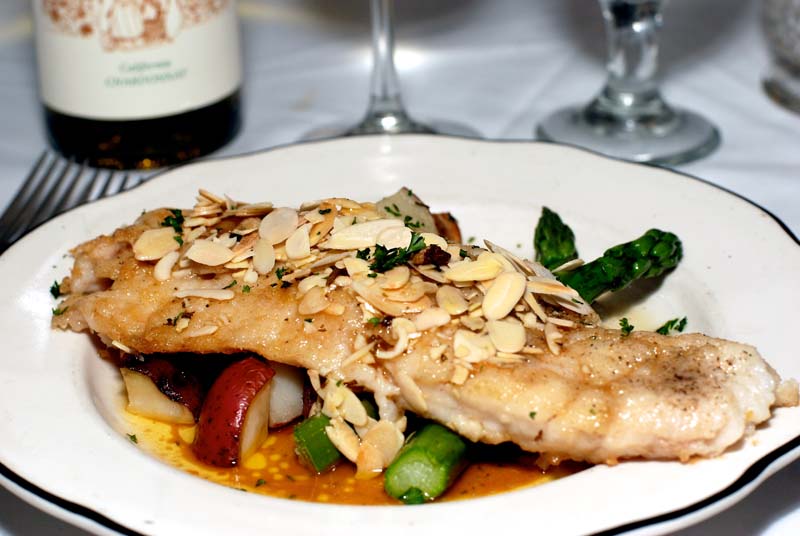 Christmas New Orleans Style
2012 Reveillon Menu (available December 1 - 24)
HORS D'OEUVRES
TURTLE SOUP AU SHERRY
SALADE
CRAB CAKES with Creole Mustard Vinaigrette
YOUR CHOICE OF ENTRÉE
TROUT AMONDINE
Pan fried filet of trout served with rosemary roasted new potatoes and steamed asparagus.
Finished with almonds.
VEAL MEDALLIONS
With lemon braised artichoke hearts and roasted garlic mashed potatoes
FIG GLAZED DUCK BREAST
With pecan rice pilaf
DESSERT
RUM CAKE
COFFEE AND TEA INCLUDED
$45.00 per person excluding tax and gratuity
Executive Chef Chad Penedo
During the mid-1800s, New Orleans' Creole families celebrated the "Reveillon" (French for "awakening") twice during the holidays. The first Reveillon came after Midnight Mass on Christmas Eve, when families returned from St. Louis Cathedral to break a daylong fast with an elaborate meal.
2012 NEW YEARS EVE DINNER MENU
Your choice of one of each course:
HORS D'OEUVRES
SAUTÉED SHRIMP
Caramelized onions and jalapenos with roasted red pepper cream cheese
FRIED LA OYSTERS
Crispy andouille sausage, crumbled bleu cheese and remoulade sauce
DUCK CONFIT
With spicy slaw on a crispy toast point
POTAGE/SALADE
TURTLE SOUP AU SHERRY
SEASONAL GREENS
With shaved purple onions, diced tasso, chopped pecans.
Drizzled with Creole French dressing
ENTREES
BACON WRAPPED 8 OZ. CENTER CUT FILET
With roasted garlic creamed new potatoes, fried onion rings. Finished with marchand de vin sauce.
BLACKENED SOUTHERN COMFORT GLAZED PORK TENDERLOIN
Pecan Rice Pilaf and Asparagus Tips
BRAISED LAMB OSSO BUCCO
Creamed new Potatoes and petit peas
PAN ROASTED BONELESS DUCK BREAST
Cajun Dirty Rice and Candied Sweet Potatoes. Finished with Orange Gastrique
LOUISIANA SEAFOOD ETOUFFEE
Jumbo Lump Crabmeat, Jumbo Shrimp, and La. Crawfish Tails in etouffe sauce. Served with Steamed Rice
PAN FRIED GULF FISH
Homemade Garlic Fries and Steamed Asparagus. Topped with Lump Crabmeat and Meunierre Sauce
DESSERTS
CRÈME BRÛLÈE
WHITE CHOCOLATE CHEESECAKE
TIRAMISU
BANANAS FOSTER (add $7.00)
Bananas flamed tableside with Brandy and Banana Liqueur served over Vanilla Ice Cream
COFFEE OR TEA INCLUDED
$75.00 per person excluding tax and gratuity
18% gratuity added to parties of 6 or more
back to news